Love spell goat's milk Soap
We just released a new video on YouTube of our beautiful ombre Pour of our Love Spell fragrance soap. This fragrance blend is one of the shop favorites as it resembles the perfume fragrance from Victoria Secret. You can view the video here and don't forget to like and subscribe to our channel.
Fall in love with this soap fragrance. The fragrant bouquet of roses, and jasmine will have you under it's spell. Uplift your senses with the undertones of citrus and get ready for a glorious day.
Our Goats milk soap is made with Coconut oil, fresh goats milk, Olive oil, Shea butter, sweet Almond oil, Avocado oil and jojoba oil, rose absolute, jasmine fragrance oil, titanium dioxide, and mica red for color.
Product successfully added to your cart.
View Cart
Successfully Added to your Shopping Cart
We support local farmers when we buy our goats milk and therefor get to call ourselves part of the pick tn family
#pickTN #goatsmilksoap #theherbalbath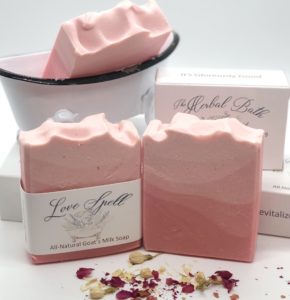 You can shop all our great soap options in our store here
And we encourage you to join our VIP facebook group where we share about all things herbal, bath and soap related. We even offer special discounts just for our members from time to time.