We have been hard at work creating new all natural clay soaps for you. There are lots of great soaps on the curing racks for our late summer and fall release. And, we just released 4 new activated charcoal and clay bars.
There are many new things on the horizon for us. Our natural full skin care line is just weeks away from release. And that has taken up much of our time over this past year. That did not stop us from creating new things for you. Our new clay soaps are part of our pure and natural soap line, and come in several new styles.
Kaolin Clay has always been part of our line up. Kaolin is great for dry skin and combined with activated charcoal it is the perfect soap for dry summer skin.
We also have a new Bentonite clay bar with activated charcoal. Bentonite clay is a great bar for people with oily skin issues.
and We added a brand new Rhassoul clay soap bar. Rhassoul clay is going to be good for mature and sensitive skin.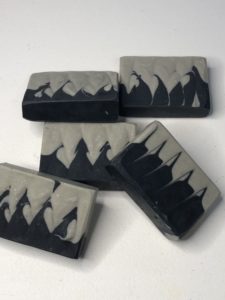 All of these new bars are blended with activated charcoal to pull out impurities and fragranced with essential oils of tea tree, sweet orange, lemon and bergamot. This combination creates a light refreshing citrus fragrance and the tea tree acts as an astringent to gently clean and tone.
We are super excited about these new clay soaps. You can view the making of these soap bars on our YouTube Channel here
And you can find these soap for sale in our pure and natural soap section here