Men preferred soap
These soaps are loved by women, and preferred by men. They have what is typically a more masculine fragrance. You will find a variety of woodsy, musky, and all around deeper fragrance pallet. Many of our women shoppers love to use these soaps, as well as purchase them for their men. You wont find fruity or floral fragrances in this category, but you can find them in our nearly natural and pure and natural soap categories.
Product successfully added to your cart.
View Cart
Successfully Added to your Shopping Cart

Successfully Added to your Shopping Cart

Successfully Added to your Shopping Cart
If you love these men preferred soaps, but are looking for something a little softer, check our our other soap fragrances here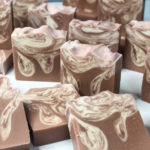 We love to connect with our customers. Therefore we are very active on social media, and encourage you to follow us on your favorite platform. We can be found on Facebook, Instagram, Twitter, YouTube, TikTok, and Pinterest, @theherbalbath and LinkedIn @lorrie-vaughn-wilbanks. On these various accounts you can view full length videos,(on the herbal bath youtube channel) video shorts, chat with us live, see behind the scenes, and more. So head on over to your favorite social media hang out and join in the conversations. See you there!
Before you go, don't forget to sign up for our newsletter. We don't send a lot of emails, but when we do it is usually for shop announcements and or discounts.