Here at The Herbal Bath, we think our men our pretty special and as such we believe, Natural skin care is not just for women anymore. Our Men's product line is a collection of all natural products for the bearded and the clean shaven. We handcraft all our products in middle TN, in small batches with the end user in mind. Our oils, balms, shave cream and soaps will leave your beards or your shaven face, touch-ably soft.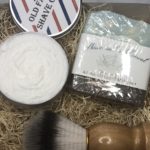 Do you need a soap to go with your men's product line? check out our men preferred soaps here
We love to connect with our customers. Therefore we are very active on social media, and encourage you to follow us on your favorite platform. We can be found on Facebook, Instagram, Twitter, YouTube, TikTok, and Pinterest, @theherbalbath and LinkedIn @lorrie-vaughn-wilbanks. On these various accounts you can view full length videos,(on the herbal bath youtube channel) video shorts, chat with us live, see behind the scenes, and more. So head on over to your favorite social media hang out and join in the conversations. See you there!
before you go….don't forget to subscribe to our newsletter. We send occasional shop updates and members only discounts.