No matter the season we are in, you can find all your favorites here. Our seasonal themed soaps are all the rage. Whether it is a holiday, or a season you can usually find all the new soaps here in one place.
Do you need a custom soap for a special season in your life? We create custom orders for bridal showers, baby showers, wedding favors, birthdays and more. If you can dream it, we can create it. Contact us here for more information.
View some of our other customized soap here on our wholesale soap loaf page.
Product successfully added to your cart.
View Cart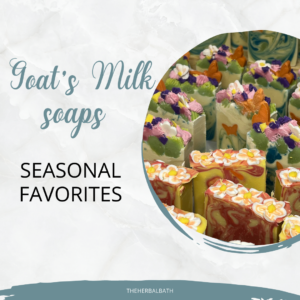 We love to connect with our customers. Therefore we are very active on social media, and encourage you to follow us on your favorite platform. We can be found on Facebook, Instagram, Twitter, YouTube, TikTok, and Pinterest, @theherbalbath and LinkedIn @lorrie-vaughn-wilbanks. On these various accounts you can view full length videos,(on the herbal bath youtube channel) video shorts, chat with us live, see behind the scenes, and more. So head on over to your favorite social media hang out and join in the conversations. See you there!
before you go….don't forget to subscribe to our newsletter for shop updates and member only deals.