Goats Milk Soap
We source our goats milk from a local organic farm. All our soaps are created with 100% goats milk (as the liquid portion). Goats milk is high in alpha hydroxy acids. Lactic acid, works to generate new skin cells while it gets rid of old ones. Making this soap one that smooths and nourishes your skin.
View Cart
Product successfully added to your cart.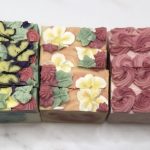 You can add our goats milk soap to a personalized gift sets here.
We love to connect with our customers. Therefore we are very active on social media, and encourage you to follow us on your favorite platform. We can be found on Facebook, Instagram, Twitter, YouTube, TikTok, and Pinterest, @theherbalbath and LinkedIn @lorrie-vaughn-wilbanks. On these various accounts you can view full length videos,(on the herbal bath youtube channel) video shorts, chat with us live, see behind the scenes, and more. So head on over to your favorite social media hang out and join in the conversations. See you there!