Are you social distancing? Self quarantining? and practicing safe interaction?
I understand the struggle that everyone is facing right now. It has been about 3 weeks since the Covid-19 virus hit here in Tennessee. I know that it was in other areas of the US prior to that. But as I am sure with some of you, I didn't have a need to pay attention until it hit close to home.
Truthfully, It wasn't until I started seeing pictures on line of empty store shelves that I realized how bad things were. And, the sad thing is that I am sure they are going to get a little worse before they get better.
I have to say that I was simi caught unaware. Normally we keep our house fairly stocked of food and paper goods. However, when all this started I had been pretty pre-occupied with a sick husband. He is on the mend now, however over the past month he had to have a kidney removed. I know! It was very unexpected and he was very sick both before and after the surgery. Because of that, he wasn't eating so I wasn't cooking and therefore I wasn't shopping. I had picked up a few things when the college kid came home for spring break. But all in all our basic supplies were getting pretty low.
I ran to the store that first day that empty shelf pictures were being posted. And, to my surprise many of our shelves were empty. I happen to catch the stock man as he was putting out toilet paper and picked up 2 packs. Since then we have been staying home and doing our part to self quarantine.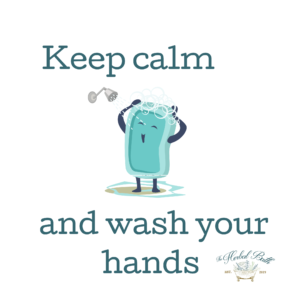 Today I had to make a run for medicine so once again I gloved up and went out. There were very few people out and about today, which is good news. Store workers were busy sanitizing shopping carts and doing their part to keep down the spread of germs too. My hats off to everyone who has to be out during this time.
Going out in public feels like I am living in the contagion movie. I am aware of everything I touch and actively avoid people walking down store isles. I pray that everyone is taking these precautions and doing their part.
If your stores are bare and you are concerned about germs here is a little DIY recipe for disinfectant.
Mix 1/2 cup water (distilled is best)
1/2 vinegar
20-30 drops of of lemon essential oil
or you can mix lemon, tea tree and lavender for a great antibacterial spray.
Put all ingredients into a spray bottle and spray your counters and surfaces.
Hand washing with soap and water is still the best way to kill germs on your hands. Don't touch your face. (as you read this I'm sure you just reached for your face.) 🙂 it is only natural. But please take precautions.
The virus is said to live on hard surfaces 3-7 days. So just be aware of that as you put away your groceries and touch things in the store.
My prayer is that this all passes quickly. I pray for the safety of you and your family. And that you will have peace during these trying times.
You can view a full line of our soaps here.
And we would love to have you join our VIP Facebook group here
Remember to stay calm. Be safe. and remember you are not alone!