Nearly Natural Soap
These soap are created with all the same amzing ingredients as our pure and natural line. However, we use mica powders and phthalate free fragrances. Some of the fragrances may be essential oils or blends that also include essential oils. The nearly natural soap line gives me a space to let my creative juices flow. I love creating pretty and unigue designs for this category.
View Cart
Product successfully added to your cart.
Are you looking for something a little more manly? Check our our men preferred soaps here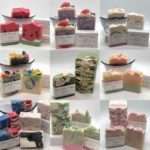 We love to connect with our customers. Therefore we are very active on social media, and encourage you to follow us on your favorite platform. We can be found on Facebook, Instagram, Twitter, YouTube, TikTok, and Pinterest, @theherbalbath and LinkedIn @lorrie-vaughn-wilbanks. On these various accounts you can view full length videos,(on the herbal bath youtube channel) video shorts, chat with us live, see behind the scenes, and more. So head on over to your favorite social media hang out and join in the conversations. See you there!