One of the main things to keep in mind when you are making products is to measure your ingredients by weight instead of volume. For this simple sugar scrub, if you choose not to fragrance it, then you could measure by volume. However, we are going to be using the weight method.
We are going to be making an 8 ounce batch of scrub or 240 grams
75 % sugar = 6 ounces /180 gr
18 % soap = 1.44 ounces /43.2 gr
6.5 % oil = .52 ounces / 15.6 gr
.5 % fragrance = .04 ounces / 1.2 gr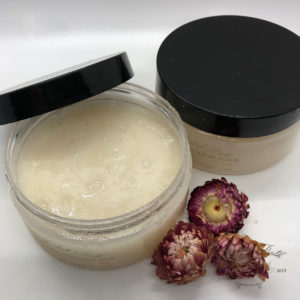 When using essential oils, it is important to know the dermal limits of your chosen oil. A dermal limit is the maximum amount that you can safely use, to avoid skin irritation.
Example would be grapefruit essential oil. Using this essential oil can cause sensitivity to sun exposure.
As a rule of thumb, the suggested amount for skin is 2% for body .5% for the face. However, some oils can be safely used up to 4% for body and 1% on the face. For todays scrub I am using .5% If you want to add more fragrance to your scrub you can lower the percentage of carrier oil and increase the % of essential oil. Just remember the maximums. You can also adjust the soap / oil ratios to make this scrub as moisturizing or as sudsy as you like it.
You can use a basic kitchen scale to measure your ingredients. I like to measure the sugar first, and set it aside. 2nd, I measure my oil portion, and add my essential oils to the carrier oil. 3rd add your soap portion. You can measure each separately and add them together, or you can measure them all into the same bowl. Just be careful not to pour too much.
If you are more of a visual learner, then you are in luck! You can view a replay of a live video tutorial on making this sugar scrub here.
And if you would rather buy a scrub and not have the hassle of making one, then you can purchase this scrub here.
I love to use this scrub in the bath or shower on all my dry skin areas.
If you try this at home, let us know how you like it.