Does your body need a little love and attention? Well, we have the perfect skin solution. Our Body Butters are created with raw, natural, butters and oils. Available with or without essential oil fragrance. We offer both salt and sugar Scrubs. Both are created with all natural plant sourced ingredients, many of which are raw and in their natural form. Also available in both fragrance free, and essential oil fragrances. Some of our fragrances are nearly natural blends that are phthalate and paraben free.
View Cart
Product successfully added to your cart.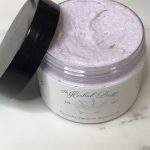 Your body will feel amazing after use of these body butters and scrubs. Why not treat your face to amazing all natural goodness too? check out our full skin care line here
We love to connect with our customers. Therefore we are very active on social media, and encourage you to follow us on your favorite platform. We can be found on Facebook, Instagram, Twitter, YouTube, TikTok, and Pinterest, @theherbalbath and LinkedIn @lorrie-vaughn-wilbanks. On these various accounts you can view full length videos,(on the herbal bath youtube channel) video shorts, chat with us live, see behind the scenes, and more. So head on over to your favorite social media hang out and join in the conversations. See you there!