Create a spa day experience in the comfort of your own home. Our bath teas are curated blends of organic herbs. Created to offer nourishing benefits for body and mind. Likewise our salts are a great way to wash away the worries of the day. Sooth sore muscles and relax with our therapeutic bath salts. (now offered in a test tube) Or, pamper yourself with a blend of herbs and salts for an all around delightful bath time experience. Each bag of herbal salt and bath tea comes with a wooden scoop and re-usable tea bag.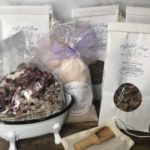 Are bath teas and salts not your thing? Do you prefer something a little more bubbly? You can find our bubble bath scoops and bath bombs here.
We love to connect with our customers. Therefore we are very active on social media, and encourage you to follow us on your favorite platform. We can be found on Facebook, Instagram, Twitter, YouTube, TikTok, and Pinterest, @theherbalbath and LinkedIn @lorrie-vaughn-wilbanks. On these various accounts you can view full length videos,(on the herbal bath youtube channel) video shorts, chat with us live, see behind the scenes, and more. So head on over to your favorite social media hang out and join in the conversations. See you there!