Pet Shampoo
Our all natural pet shampoo is a favorite among all of our pet loving clients.  If you have fur babies, then this is the shampoo for you. Gentle and nourishing for sensitive skin. Lathers great and rinses clean. 2 sizes for your big boys and princess pups.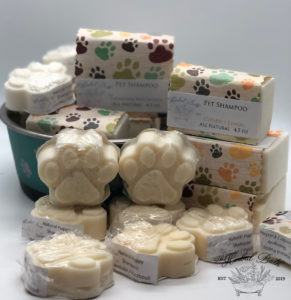 View Cart
Product successfully added to your cart.
If you love our natural pet shampoo, then we think you will also love our other products. Our goat's milk soaps are for us humans what these delightful bars are for our fur babies. We also offer sugar and salt scrubs that gently exfoliate while moisturizing. We have moisturizers and face serums, shave items for men. We recently added new bubble bath scoops to our bath bomb line, and have plans for more.  You can view our full line of products here.
To stay up to date on what we are doing you can follow us on all social media platforms @theherbalbath or join our VIP facebook group here
If you would like information about our wholesale business to business program you can visit our wholesale page here. And to read what others are saying about our products check out our testimonials here.
Have questions about any of our pure and natural soaps or our other products? Contact us here
We recently launched a YouTube channel where you can watch videos of us making our goats milks soaps! You can view the herbal bath store soap making videos on our new YouTube page.