Herbal Bath Tea
We have crafted our teas to provide many nourishing benefits for the skin and body. Soak in all the herbal goodness with hand blended herbs designed to relax, sooth and nourish your skin and muscles. Breath in the aroma of beautiful floral scents blended along side of barks and plant material for amazing result. Indulge your senses and be swept away from the worry of the day.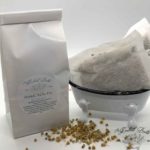 View Cart
Product successfully added to your cart.
Successfully Added to your Shopping Cart

Successfully Added to your Shopping Cart

Successfully Added to your Shopping Cart
We take great pride in curating all of our products. If you like our herbal bath teas then you are sure to love our other products too. You can view all of our products here  we know you will love them
You can follow us on all social media @theherbalbath or join our VIP facebook group here
If you would like information about our wholesale business to business program you can visit our wholesale page here. And to read what others are saying about our products check out our testimonials here.
Have questions about any of our herbal bath tea or our other products? Contact us here
We recently launched a YouTube channel where you can watch videos of us making soap! You can view the herbal bath store soap making videos on our new YouTube page.