Gift sets and subscription box
Treat those you love with natural handmade gifts for every occasion. And, treat yourself every month to our subscription box. All your favorite products put together in a beautiful little package to share with others.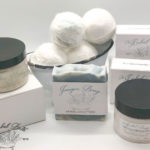 We do accept special request for gift sets, so if you do not see what you are looking for, feel free to contact us. We are happy to put a special gift together to meet your needs.
We will be adding more subscription box options as well in the near future so be on the look out.
View Cart
Product successfully added to your cart.
You can special order gift sets and a subscription box with any of these great products. Goat's milk soaps in a variety of colors and fragrances, plus our sugar and salt scrubs that gently exfoliate while moisturizing. We have moisturizers and face serums, shave items for men. We recently added new bubble bath scoops to our bath bomb line, and have plans for more.  You can view our full line of products here.
To stay up to date on what we are doing you can follow us on all social media platforms @theherbalbath or join our VIP facebook group here
If you would like information about our wholesale business to business program you can visit our wholesale page here. And to read what others are saying about our products check out our testimonials here.
Have questions about any of our pure and natural soaps or our other products? Contact us here
We recently launched a YouTube channel where you can watch videos of us making our goats milks soaps! You can view the herbal bath store soap making videos on our new YouTube page.