Cucumber Melon Soap
Exactly what you would expect from a refreshing cucumber melon fragrance, that adorns this lightly colored goats milk soap. naturally crafted with phylate free fragrance and mica powder for colors.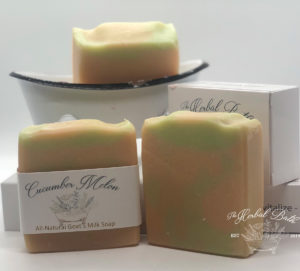 2.5 x 3.5 inch bar that is 1 inch thick, this is a hand cut bar that varies in color and size. Weight may vary slightly and are 4.5-4.75 oz
We begin our cold process with fresh goat's milk and add the following natural oils: Coconut oil, Olive oil, Shea Butter, Avocado oil, Grapeseed oil, Jojoba oil. Then top the process off with high quality essential oils for added aromatic benefits. This bar is colored with mica powders
This is a pick TN product
Visit the store for our complete link of products here
And join us on Facebook in our VIP group for more health and wellness info and first looks at new products.
Want to learn more about The Herbal Bath and our products? You can visit our new YouTube channel to see how we make this beautiful soaps. We add new videos every Saturday. You can check it out here. If you like what you see please like and follow our page.
We are proud to offer our Tangerine dream soap as a  pick TN product. We source our goats milk from a local farm and are a proud supporter of local businesses.