Bath salts and bath bombs
We are continually working to develop new bath salts and bath bombs for your bath taking pleasure. We offer a variety of all natural bath bombs and salts that have no added colors and have fragrances created with pure essential oils. These are ideal if you are sensitive to bath additives.
And for those of us to like to live on the edge we have created new bubble bath scoops. These are my personal favorite. Like the bath bombs the base ingredients are all natural and/or plant derived. We use mica color powders and our fragrances are both created with essential oils and some phyllat free fragrance oils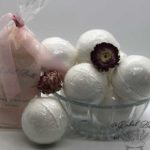 View Cart
Product successfully added to your cart.
If you love our bath bombs we think you will also love our other products. We offer sugar and salt scrubs that gently exfoliate while moisturizing. We have moisturizers and face serums, shave items for men. We have a vast line of goats milk soaps, and are always adding more.  You can view our full line of products here.
To stay up to date on what we are doing you can follow us on all social media platforms @theherbalbath or join our VIP facebook group here
If you would like information about our wholesale business to business program you can visit our wholesale page here. And to read what others are saying about our products check out our testimonials here.
Have questions about any of our pure and natural soaps or our other products? Contact us here
We recently launched a YouTube channel where you can watch videos of us making our goats milks soaps! You can view the herbal bath store soap making videos on our new YouTube page. And there will be a video for our bath bombs coming soon, for our new bubble bath scoops.